Turrialba
Adventures in Turrialba, 3 nights / 4 days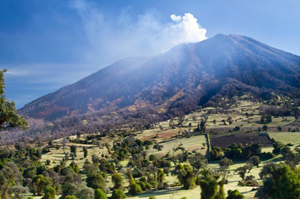 Day 1. San Jose, Costa Rica
Meeting at the airport with a Bilingual speaking guide, private transfer to the hotel in San Jose (4*: Barceló San José Palacio or Presidente, 5*: Costa Rica Marriott or Doubltree Cariari by Hilton San José). (without meal).
turrialba costa rica
Day 2. Irazu Volcano National Park and Archaeological Hike Guayabo National Monument.
After breakfast departure from San Jose to Irazu Volcano National Park (individual tour with Bilingual speaking guide), the highest volcano in Costa Rica (3430m above sea level); the road passes through the province and the city of Cartago, the former capital of Costa Rica. Cartago's landmarks are the Sacred Basilica and the ruins of Santiago – a colonial church destroyed by an earthquake in 1910. After a traditional Costa Rican lunch you will visit the Guayabo National Monument, the oldest archaeological settlement on the territory of Costa Rica, that has the traces of a lost culture of the Central American Indians. Next you will be taken to the hotel in the colonial style "Casa Turire" that offers a cozy atmosphere of the former house, where you will be able to spare your time, relax and enjoy the beautiful views, rent a bike, kayak or canoe, ride a horse, etc. (rental is not included in the tour price). Accommodation in Casa Turire Hotel 4* (breakfast/lunch).
turrialba costa rica tours
Day 3. Turrialba
After breakfast, you can choose a tour of your preference (collective tour). We offer you a horseback riding tour around your hotel, where you can visit the observation deck with beautiful views of the lake Lago de Angostura, and also you'll be able to see the plantation of sugar cane, coffee and macadamia; or rafting on inflatable rafts down the river Pacuare. Lunch is included. Accommodation in Casa Turire Hotel 4* (breakfast/lunch).
turrialba costa rica tours best
Day 4. Return to San Jose
After breakfast you will be transferred the international airport in San Jose, or for docking with the next transfer (breakfast).
turrialba costa rica tours best cheap
Best price starting from 630$!
Get your own trip right now: