Isla del Caño
South Pacific Coast and Isla del Caño Island, 4 nights / 5 days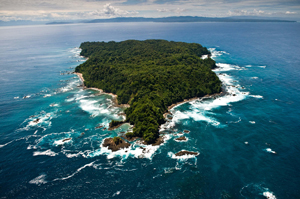 Day 1. San Jose, Costa Rica
Meeting at the airport with a Bilingual speaking guide, private transfer to the hotel in San Jose (4*: Barceló San José Palacio or Presidente, 5*: Costa Rica Marriott or Doubltree Cariari by Hilton San José). (without meal).
isla del caño costa rica
Day 2. Tarcoles River
After breakfast departure from San Jose towards the province of Puntarenas (a personal tour with Bilingual speaking guide), on the way to the central Pacific coast. Our tour begins on the banks of the river Río Grande de Tarcoles, for the next 2 hours you will visit this tropical "animal world", we'll take a boat ride along the Tarcoles River to its mouth into the channel Guacalillo. You'll be able to observe the huge American Crocodiles up to 4 m long coming at a short distance to the boat. You will see a huge variety of iguanas, birds (about 50 species), among them the famous macaw parrots. After lunch we'll continue our journey to the popular tourist town of Quepos that is near Manuel Antonio National Park, considered a pearl of Costa Rica. Accommodation in hotel (4*: Karahe, 5*: Parador) (breakfast/lunch).
isla del caño costa rica tours
Day 3. Manuel Antonio
After breakfast you will visit the National Park of Manuel Antonio (collective tour) located in the area of tropical rainforest. This park protects primary and secondary forests, mangroves, beach flora as well as coral reefs. There are almost all species of Costa Rican jungle: 109 species of mammals and 184 species of birds. Among them are: badgers, sloths, howler and white-faced cappuccino monkeys, jaguars. Among the birds you can see: toucans, pelicans, green kingfisher, sparrow hawk. Also there is a huge number of insects, snakes and lizards. In the evening – individual transfer to the hotel in the area Dominical (Villas Rio Mar or Cristal Ballena), located near the National Park Marino Ballena. There is a program for the protection of humpback whales. (breakfast)
isla del caño costa rica tours fine
Day 4. Isla del Caño
In the morning your trip continues in Sierpe, where your journey begins on a boat along the river Sierpe (collective tour) – one of the deepest rivers of Central America. These mangroves are inhabited by numerous species of birds as well as a huge number of reptiles, such as the American crocodile and green boa. Leaving the mouth of the river you can enjoy the most magnificent views of Costa Rica: the Island Violines, Drake Bay and the shores of Osa Peninsula. Your next stop – La Isla del Caño. Here you can go scuba diving in the crystal-clear waters of this island. You will be offered an amazing dinner in the open air, after which you will be able to relax on the beach under the warm rays of the sun. Return to the hotel. (breakfast/lunch).
isla del caño costa rica tours fine cheap
Day 5. Return to San Jose
After breakfast you will be transferred the international airport in San Jose or your hotel on the beach (transfer's price is not included) (breakfast).
Best price starting from 720$!
Get your own trip right now: