Costa Rica Group Tourism
La Fortuna Costa Rica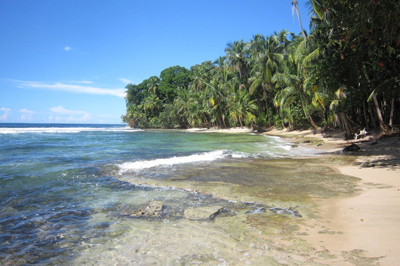 Tour Benefits:

Poas Volcano – is active volcane in central Costa Rica, 8,885 ft.

Tortuguero National Park – is a National Park in the Limon Province of Costa Rica. Despite its remote location, it is the third-most visited park in Costa Rica, reached only by airplane or boat. The park has a large variety of biological diversity due to the existence within the reserve of eleven different habitats, including rainforest, mangrove forests, swamps, beaches, and lagoons.

Arenal Volcano – is active volcane in north-western Costa Rica, 5,358 ft.

Hanging Bridges of Arenal – walk among virgin tropical rainforest with a spectacular views of the Arenal Volcano.

Magic Costa Rican Pacific Coast at Guanacaste.

Tarcoles River – in Costa Rica originates on the southern slopes of the Cordillera Central volcanic range. The river's upper reaches form the northern border of the Carara Biological Reserve.[1] It is a habitat for American crocodiles, while the marshes located at the river's mouth have many waterfowl and wading birds. Among the many herons and egrets are the boatbill and bare-throated tiger heron, and other birds found here include double-striped thick-knee, mangrove warbler and American pygmy kingfisher. Reptiles, such as the American crocodile, caiman, common basilisk and large iguanas, are also easily seen.
Get your own trip right now!
San Jose Costa Rica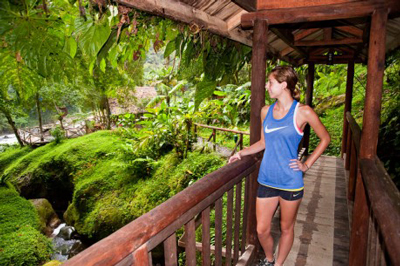 Tour Benefits:

Poas Volcano – is active volcane in central Costa Rica, 8,885 ft.

Arenal Volcano – is active volcane in north-western Costa Rica, 5,358 ft.

Tabacon Thermal Spa – best thermal SPA in the country.

Monteverde – is a small community in Puntarenas, Costa Rica, located in the Cordillera de Tilarán. Monteverde is considered a major ecotourism destination in Costa Rica. The area is host to the Monteverde Cloud Forest Biological Reserve.

Manuel Antonio National Park – is a National Park located on the Pacific coast of Costa Rica. Park has one of the most impressive landscapes of the world and has several coves with many white sand beaches and lush foliage amidst great mountains and forests that reach the beaches. It has a large land and marine biodiversity with beautiful coral reefs.
Get your own trip right now!
Tabakon Hot Springs, which are natural pools of geothermal water, are fed from the same river, which originates in the depths of the volcano Arenal. There the water is heated to 101 ° C, and then does a path 1.2 kilometers to the natural pools. Here the river splits and unites with another river.
Pools of various sizes and temperatures, have long since become a favorite vacation spot of national and foreign tourists, as well as a popular tourist attraction in Costa Rica group tourism cool. The uniqueness of these hot springs is that they are surrounded by picturesque and very lush tropical flora of Costa Rica against high volcano Arenal. After all, it is no secret that most of the hot springs are located in completely different natural areas: in Japan, Andorra, United States, Russia and other countries of the world. Near the mouth of the river is a hot waterfall, under which you can sit, while he jets massage your body. Floating pool bar creates a sense of peace and tranquility that is hard to get anywhere else. Best time to visit the hot springs Tabakon – it is early evening and night. At this time of the day it creates a special atmosphere of the unique event, which, except for you, very few people have experienced. And it will agree is well worth it. Rare visitors luxuriate in the water, tropical drinks order, are easy conversation and behold neighborhood
Tarcoles – a river in Costa Rica group tourism cool exciting, in the province of Puntarenas. It rises on southern slope of Central Cordillera, flowing from east to west, it empties into Gulf of Nicoya. River is 111 km. Pool together with its tributaries is 2121 square kilometers, covering the area, which is home to about 50% of the population.
You can see a huge number of American crocodiles, which are not rarely reach 4-5 meters in length. In this river, which flows into the Pacific Ocean, naturally inhabits the biggest colony of crocodiles in the world. On the river also home to a huge number of birds. Last birdwatching include more than 50 species, including the incredible beauty of scarlet macaw. Also, there is the vast area of ​​mangrove forests, which are home to many species of flora and fauna.
Turrialba Volcano National Park. Area Turrialba, located 65 km east of San Jose to north-west of city of Cartago. Main attraction is volcano Turrialba (3340 m above sea level) and nearby Irazu volcano, so they are often called twin volcanoes. Volcano Turrialba includes three equally active crater. Central crater – deepest (50 meters deep). Average temperature in area +16 ° C.
Turrialba – second largest and only volcano in Costa Rica, allowing descend into one of its three craters and observe near inferior volcanic activity. This region of high humidity is a tessellated of primitive dozens timberlands, biologic modesties and burnt umber groves. It maintained a finespun equaliser between agriculture and tenvironment. Scenic peach, diverse plant life and fauna, opportunities for rafting and kayaking trips to brand Turrialba favored holiday destination for fans of gamble touristry and nature explorers. Fans of jungle and rainforest attract numerous hiking trails. Those who prefer riding bikes and also offers excellent opportunities for outdoor activities. Irazu Volcano, consisting of three craters, strikes the visitor surreal landscape worthy of the brush of Salvador Dali. Pile of frozen layers of lava bizarre shapes, lakes with colored water, green and red, all that – at an altitude of 3000 ms above two oceans. Irazu volcano – highest in Costa Rica, and looked up at him, on a clear day you can see at once two oceans – the Pacific and the Atlantic. On Earth, not so many points that allow observe such species.
The territory of the volcano Irazu and its slopes are large collection of plants and animals, are not typical of Costa Rica group tourism cool exciting best nature. This is different conifers, evergreen oaks, as well as coyotes, long-tailed weasels and tiger cats. Numerous curiosities, including three of crater, available for study during various hikes and excursions. In order to throw a glance at bottom of crater, with diameter of one kilometer, is to make ascent. However, it provided for lazy horse rentals.
Puerto Viejo. Blank water, coconuts, fantabulous surfing and relaxing atmosphere of Caribbean make Puerto Viejo among preferred destinations amongst travellers. Placed on Atlantic glide, near an hour's drive south of Limón (Limón), Puerto Viejo, is core of activeness among small southern Caribbean cities Kahita and Manzanillo. It is set in hobo camp, around green sea, left banana tree groves and small rivers. This locality – lavish, warm and humid, with no clearly pronounced dry season. As of charm of Afro-Caribbean, European and local Costa Rica group tourism cool exciting best cheap culture, and lot others (over 40), Puerto Viejo has singular atmosphere that is felt here immediately. Caressing local wave on which you glide, and tourers from round Earth – all of this is mixed and contributes to creation of favorable atmosphere of fun. Antecedently, little angling settlement, Puerto Viejo in late yrs is growing rapidly. Celebrated Salsa Brava beckons attract surfers energetic, making Puerto Viejo pearl serfernyh driving on board. In city center there is now a lot of keepsake stores, saloons, eating place, hotels and tourism callers. Traffic in city is dominated by bicycles, mopeds and footers, and very few cars.